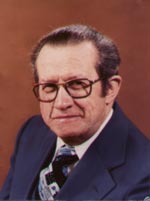 Our second president, Gaston, directed the affairs of the Association after having served as treasurer for three years. He holds the record for longevity as a member of the Board of Directors.
Second President, 1994-1998
The second president of the Association served first as treasurer for three years before agreeing to take on the responsibilities of the president, which he did for four years, from 1994 to 1998. He took part actively in various activities during his term of office and was often the catalyst for the organization of special events.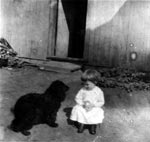 Gaston at about the age of one with the family dog named "Chasseur" (Hunter).
He was a promoter of regional meetings, notably in St. Raymond and Alma, as well as in Dupuy in the Abitibi region. Even two annual general meetings were held in Portneuf and in the Lake St. John region.
He often spoke and even wrote about his desire to promote the establishment of regional councils of the Association, which would be, in his opinion, the best way to increase interest in joining the large Robitaille family.
He was born in Charlesbourg in 1917, followed a classical course of studies at the Minor Seminary of Québec City, before graduating from the Faculty of Commerce at Laval University.
A chartered accountant by profession since 1949, he maintained his own office along with an associate for many years. Later, after a merger, he became a member of a firm of accounting experts that today is well known around the world.
He was very knowledgeable about the old business sector in Québec in the part of the city situated between the Old Port and the Chateau Frontenac, especially St. Pierre Street where the seven largest banks of that era, the Stock Exchange, and most of the largest wholesalers and retailers were located. He was familiar with the changes and transformations in that part of the city even up to today.
From 1978 and on, he lived peacefully in retirement, interspersed with magnificent trips within Canada and other countries.
He continued to attach great importance to family values until his death in 2015 at the age of 98 at the Jardins du Haut-Saint-Laurent in Québec City. He was the husband of the late Dame Thérèse Gauvin (first nuptials) and the late Rachel Robitaille (second wife). He was the father of the late Simon. He left to mourn his children Nicole (Laurent Perrault), Michelle and François. He had three grandchildren and four great-grandchildren.
THANK YOU GASTON FOR YOUR DEDICATION AND YOUR GENEROSITY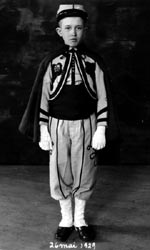 At the age of seven, Gaston had already experienced the harsh discipline of the army. He was a membe of the Zouaves Children's Regiment of Charlesbourg, dedicated to the defense of the Pope.