Newsletter #90 has been sent to members! Forty-four pages: a new record!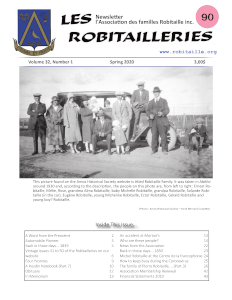 Here are the Front Pages of the latest issues of our newsletter Les Robitailleries
Click on the thumbnail to view 
Starting January 2017, l'Association des familles Robitaille started providing free access to old issues of its newsletter Les Robitailleries.
Click on the pictures to access a PDF version of the newsletter
 
 
Souvenr Album
published in 1998
to celebrate
the tenth anniversary
of the Association
 
Twice a year, the Association publishes its newletter called Les Robitailleries.

The newsletter is sent by e-mail to every paying member of the Association.
Members can also choose to receive a paper version by mail for a additional fee.
Free Access to old issues
Starting January 2017, old issues are progressively be made available for free
Newsletter #89 has been sent to our members! Thirty pages full of fascinating stories